Dr. Hakan Doganay
Surgeon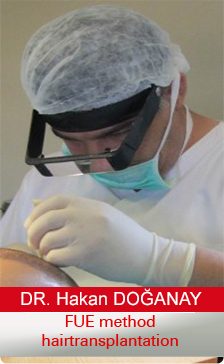 Dr. Hakan DOGANAY has been doing hair tranplantation (HT) since 2002. Doctor Hakan Doganay first started hair transplantation with only FUT technique.
However, after learning FUE technique, he abandoned FUT technique in 2006. Since then, Dr Hakan Doganay has been performing FUE method.
Dr Hakan Doganay is and first Turkish member of hairrestorationnetwork.com and baldtruthtalk.com. Also, he is recommended by The American Hair Loss Association and The International Alliance of Hair Restoration Surgeons. Dr Hakan's outstanding results were published those various forums and reviewed by many patients.
Doctor Hakan Doganay has been doing hair transplantation since 2002. He specialized in hair transplantation as well as BHT (body hair transplantation – using hair from various parts of the body such as the beard and chest to restore hair to the scalp) eyebrown and beard transplantation (from beard to beard and from hair to beard) with the help of Choi Hair Transplanter / implanter Pen technique. In this technique, Dr Hakan Doganay uses small pen needles which have diameters of 0.6mm , 0.7 mm , 0.8 mm for planting grafts into recipient sites. There are many advantages of this technique such as patient's recovery is faster and the result is natural since there is no opening a channel for the grafts in the recipient area.
To extract the grafts from the donor area, the nurses, who learned how to extract grafts from Doctor Hakan Doganay,use small blade called micro-motor, it has 0.7-0.8 mm diameter.
Dr Hakan Doganay graduated from Med School at Konya Selcuk University in 1993. He worked at different hospitals as doctor till 2002, when he started doing hair transplantation.