Dr. Muttalip Keser
Surgeon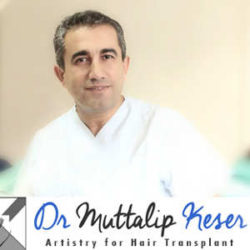 Dr. A. Muttalip Keser is a specialist of esthetic, plastic, and reconstructive surgery. He graduated from Ankara University Medical Faculty in 1991 and received his plastic surgery education at Ankara Numune Education and Research Hospital between 1992 and 1997. He established Derma -Past esthetic surgery center in 1998. In addition to all types of esthetic surgery operations, FUE method, the latest in hair transplantation, has been successfully performed at Derma-Plast since 2003.
Dr .Keser has been the first in Turkey to perform FUE method, a revolutionary advance in hair transplantation. Dr.Keser started his scientific studies in late 2002 and based his experiences on scientific grounds. In the affiliated departments of the universities in Turkey and in the USA , he designed and produced Follicular Unit Extractor after 20 months of research studies. This specially designed needle is a self-design of Dr. Keser and all its rights belong to him. With these needles, the extraction of follicular units without a loss of anatomical unity has been possible. The needles was approved by Turkish Patent Institution in 2003, and PCT application for international patent has been filed.
With more than ten years of experience at hairtransplantation he is a member of International Society of Hair Restoration Surgery (ISHRS).
Dr. Keser has been one of the leading FUE surgeons in the world for a long time. He has been performing FUE successfully for more than ten years and he has a unique experience of FUE. With more than one thousand satisfied patients, he is regarded as one of the most successful FUE surgeons in the world by hairtransplantation authorities. He is the first to perform FUE in Turkey and from that time he has made an extensive satisfied patient portfolio. Considering many patients of him want to make another appointment for a second, sometimes even third surgery just to provide some additional density or to lower the hairline down some more, Dr Keser's popularity is mostly under favour of the quality of his work. His and the medical team's confidential approach to his patients and hospitality help patients feel safe, comfortable and pleased throughout the procedure. Also there are several other reasons including technical and procedure-related details for choosing Dr Keser for a clean, refined and satisfactory result.
Dr Keser performs whole procedure in person. Make sure that your grafts are harvested and implanted by Dr Keser's own hands, not a technician's, nurse's or another doctor's.
Dr Keser performs FUE via manual punch which is regarded as the most effective method of FUE. With this method, high probability of a satisfactory result is provided by an experienced and skilled surgeon. Dr Keser uses his self-design needles in his surgeries, which helps him to harvest good quality grafts without damaging any follicle.
Dr Keser doesn't do mega sessions, he divides a hairtransplantation surgery into a few days depending on the number of grafts planned to be harvested, which is just in order not to force patient's body resistance too much. For instance, for 2000 grafts the surgery lasts three or four days. 500-700 grafts per day is the optimum option according to Dr Keser's experience. By this means, the patient feels almost no weakness during the operation. He has enough resting time to feel good between the divided sessions.
In terms of hairline design and dense packing, Dr Keser is regarded as one of the best surgeons by his patients and hairtransplantation authorities. Dr Keser results show that a natural hairline design requires experience and artistry.  And his works of dense packing attract many hair loss sufferers wishing to have a full head of hair. He can implant about 75 grafts per cm2 .
Dr Keser's communication with his patients never ends. It is always easy to reach Dr Keser or his medical team for any further help, instruction about hair growth or related issues. Patients are expected to update Dr Keser about their hair's growth and condition and ask for help whenever they need without any hesitation.