Dr. Hakan Doganay
Surgeon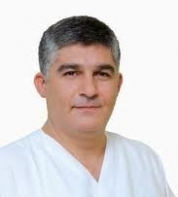 Dr Hakan has been doing (HT) hair transplantation since 2002.
Dr. Hakan DOGANAY was first started hair transplantation with only FUT technique.
However, after learning FUE technique, he stopped using FUT technique in 2006.
Since then, DrHakan DOGANAY has been performing FUE method.
DrHakan DOGANAY has been recommended by various hair restoration forums.
His outstanding results were published those various forums and reviewed by many patients.
Dr. Hakan DOGANAY is also performing BHT (Body Hair Transplant)  surgeries.
In our clinic we usually prefer to use beard body hair transplant.
He is one of the rare doctors who have obtained outstanding result with the help Choi Implanter Pen technique. With this technique Dr. Hakan DOGANAY render to give proper angles to grafts, especially, in the hairline area.
There are many advantages of Choi Implanter Pen Technique: such as,  included but not limited, enabling proper angles, less bleeding during the procedure, and, etc.